So, since around the autumn, I have been writing a monthly newsletter on topics of Interior Design that seem relevant to me at the time. I know most people are horribly busy and snatch moments here and there to check their emails - usually on their phones. I'm keeping up with my monthly newsletter, but have decided that it's better to keep it somewhat condensed and use a blog to elaborate and waffle on a bit. Most of us are so glued to our phones, checking the latest carnival of events in politics right now, that we barely have the time or energy to devote to anything else. That being said, I hope you are taking a moment for yourself and can enjoy this blog.
I have been spurred on to write about Chinoiserie solely based on some notecards I bought when I was in Paris last year. Generally speaking, it is not a style to which I automatically gravitate. There are many qualities about it that I adore, but I have found traditional chinoiserie a bit over the top and stifling as a rule. However, these notecards ( pictures below) painted in watercolour by Zega and Dams are so mesmerizing, that I realize there are elements about the style that captivate me. I fear I have opened Pandora's box and if I can succeed in putting those elements together with other styles I love in a harmonious way to satisfy my own personal style, I may become an obsessive Chinoisienne. (I'm not sure if that's the correct term, but you understand..)
Chinoiserie is the European interpretation and imitation of a fanciful and exuberant style of Chinese and east Asian artistic traditions; It is closely associated with the Rococo style.
Key Features of Chinoiserie
Due to the style's European roots and high popularity around the mid - late 18th century when Rococo and the high courts of France were in vogue, there was much asymmetry, fanciful and exotic foliage and animals mixed in with the more typical elements you'd expect to find - like pagodas, people in chinese clothes, dragons etc. Also brought into the mix is the Greek key design, Moorish and Indian elements. Chinoiserie patterns in wall coverings and fabrics run from pictorial, botanical asian scenes to more toile de jouy type prints. As Chinoiserie originated in Europe and more pointedly, France, it is no surprise that many toile de jouy and chinoiserie scenes merge together. As far as furnishing is concerned, we see a lot of (faux) bamboo, (faux) tortoiseshell, gilding and lacquering. Pagoda shaped lamps and mirrors are typical. While we think of asian style as sparse, minimalistic with simple lines and shapes, Chinoiserie is a riot of texture, color and asymmetry although to live harmoniously with it now, we tend to pare it down to suit today's tastes and proportions.
Blue and white porcelain pottery - vases, urns, dinnerware, vases
Greek Key motif used frequently
Bamboo (faux) in furnishings
Lacquered furniture and decorative objects such as cabinets, chests, boxes, screens
Asymmetrical and fanciful scenes with a lot of natural elements - waterfalls, willow, humpback bridges birds, mountains, trees, mist
Depiction of chinese men and women, (often drawn from the artist's imagination) dressed in Chinese costume, Chinese faces typically with pigtails and Fu-manchu beards
Dragons
Pagodas - also using this shape for lighting fixtures and mirrors
Chinese style calligraphic symbols or script
Top: An original Chinese Chippendale style bed from 'The Gentleman and Cabinet Maker's Director's, 1754 Below: Three ribband chairs of which Thomas Chippendale was most proud.
the chinese chippendale chair evolves
Chinese Chippendale chairs were very highly desirable during the Hollywood Regency period and a popular fixture of the Palm Beach Style. A classic Chinese Chippendale chair can look fresh in a bright, glossy paint.
Black, white and green chairs from Bungalow 5, cream and yellow chairs from Wisteria, red chair from Ballard Designs, blue chair from Horchow.
chairs in situ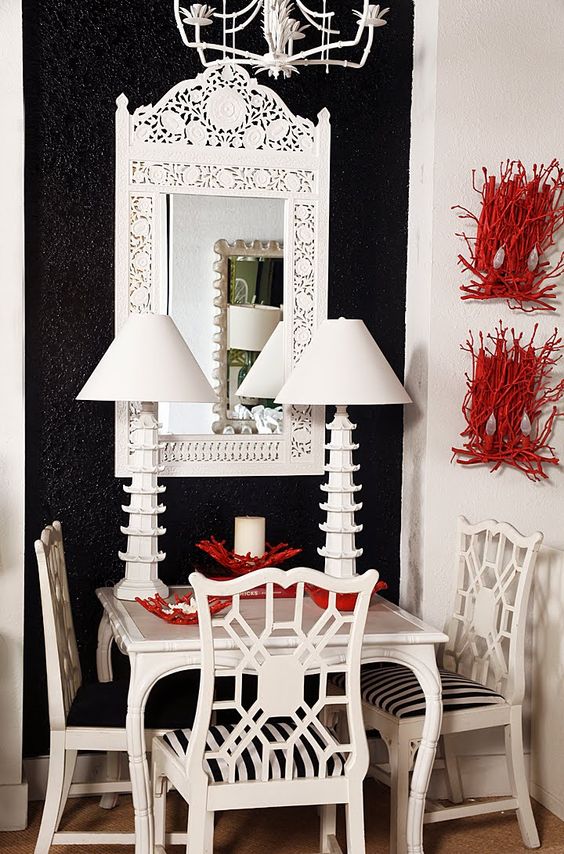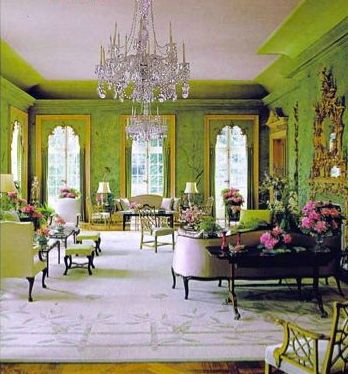 Rooms
The rooms below all display elements of Chinoiserie and I have been careful to select ones that are successful because they intermingle other styles too. This is the key to creating a room that can transcend a certain period and style and in keeping it fresh and alive.
from top to bottom: entryway by Ashley Whitaker; Room with white and green curtains and pelmet by Alexandra Branca; Design by Mary McDonald's blue and white West Hollywood office, photo by Melanie Acevedo; Red chinoiserie fabric on chair by Quadrille; Bedroom with green curtains and pelmet designed by Miles Redd; Purple dining room by Pat Healing; lamp shades by De Gournay; Jardinaire citrus tree wall covering by De Gournay; Library with mustard colored wallpaper by Fromantel; Spiral staircase with De Gournay wallpaper; De Gournay's Abbotsford wall panelling, London, photo via Luxdelux Studio; Vignette with green and white wavy striped chairs and Pavillion Wallpaper in peacock by Shumacher designed by Miles Redd; De Gournay's Earlham pattern, photo Conde Nast for House & Garden;library - source unknown; Bunny Williams using De Gournay paper; Barbara Barry using Brunschwick wall covering.
A Palm Beach residence is recreated using trompe l'oeil by artist Aldous Bertram - inspired by Claydon House in Buckinghamshire. Photos by Jonny Valiant.
Schumacher: Pearl River; Schumacher: Nanjing; Osborne & Little: Cathay Parade; Schumacher: Chinois, Peony; Griffin & Wong; ; Schumacher: Mary MacDonald, Chinois Palais; Thibaut; Tempaper; Schumacher: Jester Caprice; Schumacher:Chinois Palais; Ralph Lauren; Schumacher: Shantung Silhouette;
accenting a wall
While many chinoiserie style wallpapers and panels are exorbitantly expensive and really for the likes of the 1%, from such companies as Zuber, Gracie, De Gournay and Fromantel, there are others from places such as Schumacher, Thibaut and Osborne and Little - to name a few - that are more within reach for the 99% of us. Of course, you could just accent one wall and treat the wall covering as a large painting or mural, or you could frame your wall covering to create your own artwork.
Design by Summer Thornton, photo by Luke White
Red pendant light:Oomph; Brass pagoda pendant: Curry &Co; Gold pagoda table lamp: Bungalow 5; Gold pagoda table lamp: Bungalow 5; Oomph;Pink pagoda light; Oomph; Black etagere: Red Egg; Green side table: David Francis Furniture; Blue mirror: Bungalow 5; Black coffee table Bungalow 5;: Red chair: Ballard Designs; White dresser: Wisteria; Ludo pink topped tripod table with faux bamboo legs: Luke Edward Hall; Ceramic stools: Ballard Designs; yellow stool & blossom stool: Legends of Asia; Brass eterge: Ballard Designs; Headboard: David Francis Furniture; Orange fretwork cushion: Dana Gibson; Gold plate bamboo utensils: ricciargentieri.com; Plant holder: Dana Gibson;Toile plate: Lenox;
I like calm & tranquility - can I still use chinoiserie?
So you might be on the fence about chinoiserie in your home because you like clean lines, minimal accessories and a soothing palette. Don't worry, it can be accomplished and you will have a fresh take on an old style.
Use chinoiserie elements by approaching it in a refreshing and modern way such as framing pictures of blue and white porcelain in faux bamboo frames rather than an actual collection of porcelain.
Create a monochromatic color scheme in soothing colors
Keep the elements to a minimum so that one or two pieces really stand out or repeat a shape so that it blends seamlessly around the room.
Use contemporary furnishings with subtle chinoiserie design.
Top 2 photos: Design by Meg Braff. I love the way she has cleverly used the repeating fretwork on the bedding and the chest of drawers. The Schumacher wall covering is soft and comforting in this bedroom while she continues with her display of chinoiserie in her lighting. It is a great example of modern chinoiserie used sparingly and with no fussiness.
If you have now been at all swayed into wanting to incorporate a little Chinoiserie into your life, I hope this has given you some ideas. Remember that other styles such as Hollywood Regency and Palm Beach Style adopt certain aspects and traits of chinoiserie and that Chinoiserie also encompasses elements such as Indian, Moorish and Greek motifs, so you can play around with the style to suit your design tastes.